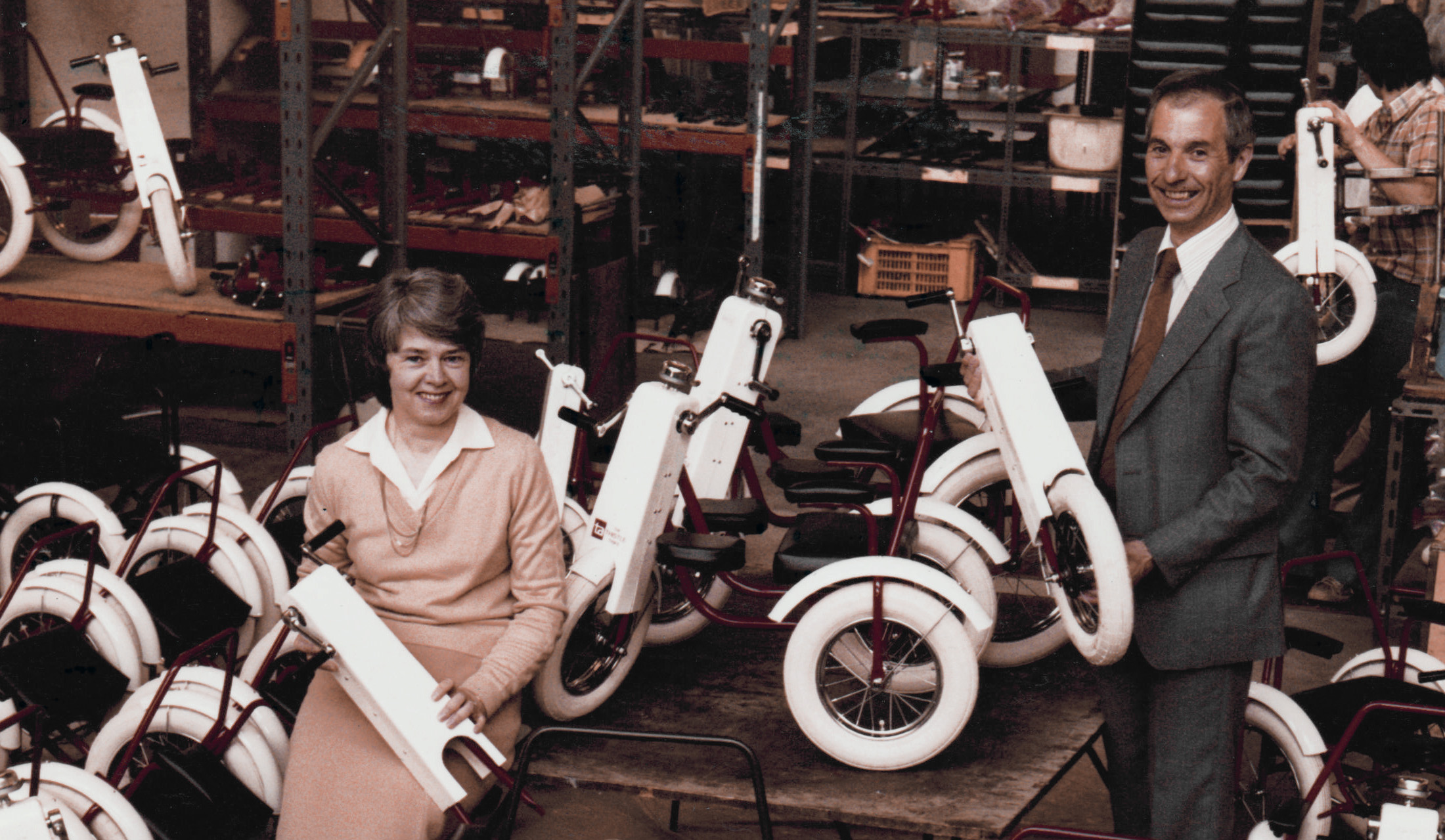 Picture taken in 1977.
Since our first hand propelled tricycle was conceived and produced in 1970 for a local charity, Theraplay has sought to design and manufacture stylish cycles which are appealing to children and adults of all ages.
Theraplay is a family owned and run business which has now been manufacturing specialist cycles for over 40 years. The founder of the company, Ian Macdonald is an engineer and a keen racing cyclist, although his racing days are now becoming a distant memory. After a number of years, studying and building his technical experience he formed his own company in 1968 called Thistle Engineering, producing small precision components for multi-national companies throughout the U.K. In 1969 he was approached by a local charity working with children with Spina Bifida and was asked to design and produce a hand driven tricycle for the growing number of children with this condition, these cycles became known as Thistle hand trikes.
By 1974, the manufacture of cycles had over-taken the demand for precision components being manufactured so it was decided to re-name the company TRIAID Ltd (Tricycle Aids to Mobility), to reflect the company's growing involvement in the healthcare industry. In 1975 a worldwide patent was awarded for the key unique features of the Thistle hand cycle. Shortly afterwards, the company was awarded a national contract to supply the NHS as the sole supplier of hand cycles which was retained until the mid-1990's when funding cut-backs within the NHS led to the decision to stop the free issue of cycles to children and adults with disabilities. 
Throughout the second half of the 1970's, many Thistle hand cycles were produced for export, with the majority destined for Western Europe or North America. This led to the establishment of distribution partners in various countries, many of these partnerships are still flourishing today.
As the company entered a new decade, new products were designed in response to requests from therapists and families. The key development became our range of foot propelled tricycles with the introduction of the Terrier and TMX models in 1983, the IMP model in 1985, The Terrier DUO in 1987 and the Tracker in 1988. These products have gone on to become the most popular range of tricycles for children and teenagers with special needs in the U.K., with over 30,000 cycles now having been supplied.
In 1986 a new generation joined the company when Graeme Macdonald joined the company after graduating from university and after spells working with large organisations and local government authorities. He established a new division called Theraplay which was created to supply play and education equipment into nursery schools and special schools. This name and brand became widely recognised and popular, so a decision was taken to change the company's name to Theraplay Ltd to reflect the company's wider product portfolio.
In 1989 Iain Macdonald joined the company this coincided with the establishment of Theraplay's own US office. Located in the State of Maryland this company distributes Theraplay products throughout North America, this office retains the TRIAID brand name.
Since the early 1990's, Theraplay has worked with various organisations to manufacture products on their behalf, sometimes selling them as well, these have included walking devices, commode chairs and various types of special cycles. The company has also been involved with the distribution of unique seating products from North America and Europe. The experience gained from working closely with other innovative manufacturers has enabled Theraplay to apply new approaches to our own design to provide greater levels of comfort and improved sitting posture for riders.
As Theraplay continues to grow and develop as an organisation, we are always looking for ways to improve our products and services we provide, we are always interested to receive feed-back as this is the fuel for our future developments.