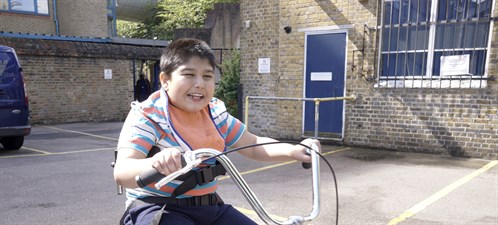 Theraplay is proud of our long standing working relationships with the U.K.'s leading charities. These organisations provide funding for equipment and valuable advice for individuals with special needs throughout the country. We also cooperate with the many smaller local ones who perform wonderful work raising funds for individuals within their community.
Theraplay has prepared a list of potenial funding sources which contains the contact details of charities that currently provide or have recently provided assistance to purchase Theraplay products. The availability of funding cannot be guaranteed and the level of assistance can vary depending upon circumstances. Each charity will have a different application procedure so in each instance we recommond contacting the charity directly or would suggest visiting their websites, this will provide information regarding the application procedure, any criteria including income limits and waiting times.
In most instances, the charity will require a letter of support from a healthcare professional such as a physiotherapist, occupational therapist or G.P. Theraplay recommends that if possible a joint assessment should be carried out with the heathcare professional, this will help to ensure the correct piece of equipment is being requested. 
The Funding List is not an exhaustive list, it is updated as new funding sources become available and as a result details can change from time to time. You can contact us to discuss any questions you have regarding funding.

 Whizz Kidz can help with a broad range of mobility equipment to give children and young people with a physical disability independence at home, at school and at play. Applications must be submitted before the individual's 18th birthday.
www.whizz-kidz.org.uk  Tel: 0800 151 3350 Email: kidzservices@whizz-kidz.org.uk

Caudwell Children provide family support services, equipment, treatment and therapies for disabled children and their families across the U.K. The charity will provide support if the Gross income of the parent/guardian is less than £45K per annum.
www.caudwellchildren.com   Tel:0345 300 1348 Email:applications@caudwellchildren.com

The Boparan Charitable Trust aims to help children and young people up to the age of 18, throughout the U.K., who are disadvantaged through poverty, disability or life-limiting conditions.
www.theboparancharitabletrust.com  Tel: 0121 214 9373  Email: applications@boparan.com

The purpose of Handicapped Children's Action Group is to be there to provide the funding for all types of specialist equipment that will help to give the disabled child independence and mobility. Assistance is available for children up to the age of 16 years.
www.hcag.org.uk   Tel: 01472 813000    Email: ca.davies110@yahoo.co.uk
The following Charity List Download includes the names and details of other charities that may be able to assist with the funding of equipment.