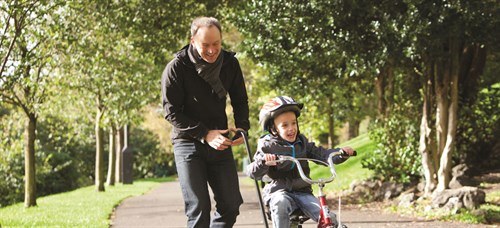 Theraplay can trace its origins back to 1970 when the first hand propelled tricycle was produced for a local charity. A chance discussion with a charity board member and a passion for cycling led to the development of a range of cycles designed around the individual needs of riders with special needs. Theraplay was the U.K's first manufacturer of cycles for children with special needs.
In the months and years that have followed, Theraplay has sought to develop and manufacture suitable cycles for people of all cycling abilities, we believe that everyone should get the opportunity to enjoy the thrill of cycling. 
Theraplay cycles are simply easier to pedal, the key design concept is to create a product that is easy to use, looks good and can be changed in size and specification as the needs of the rider change. This clever design allows the cycles to be tailored to each individual rider's requirements without the necessity for costly custom-made items. It also means that cycles can be re-used by other children, parts can be added or subtracted to suit the next rider's requirements thus enabling more children to get going on a cycle.